Apr 15, 2020 • 20M
Issue #14. Lots of good stuff in this issue - New GI location in Japan, Hiroshima and Burgundy, Hanaizumi 100yrs - Henpei vs Genkei, and loads more. Also a new Audio version.
Sake Industry News is a twice-monthly newsletter covering news from within the sake industry in Japan.

Welcome to issue #14 of Sake Industry News.
(To listen to a summarized audio version of this newsletter read by John Gauntner - please click on play button above)
As chaos continues around the world, we hope all our readers are keeping safe and sane. With current conditions as they are, the brewing season in Japan is winding down with more of a whimper than a bang as all the highly anticipated tastings and festivals that normally begin around this time of year fall victim to cancellation. It is certainly shaping up to be a fairly quiet start to 2020 for the sake industry - along with many other industries around the world. 
For now, hang in there folks! Read up, drink up and keep smiling!
*Note, starting this issue we have included the Japanese translations for the alphabetized names of sake, breweries and select terms, as requested by some of our Japanese readers.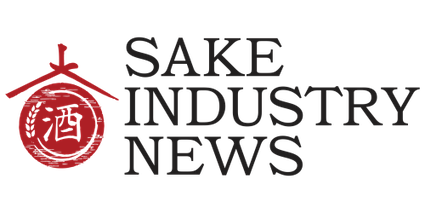 Now, for the news...
---
Harima Region Recognized With GI Status 
Hyogo- The breweries of twenty-two cities in the Hyogo Prefecture region of Harima will now be protected under GI (Geographical Indication) status awarded by Japan's Ministry of Taxation on March 16.
The Harima Sake Research Association, made up of four brewery cooperatives comprising a total of 28 breweries, applied for GI recognition in November 2019. This is the fourth regional GI recognition for sake in Japan and the second for Hyogo Prefecture after Nada Gogō in Kobe. 
The Harima region is known as the home of Yamada Nishiki, which was first developed and grown in a prefectural-run testing site in Harima. As well as its high quality Yamada Nishiki, the area also boasts a water source ideal for brewing, producing sake with a soft, round character.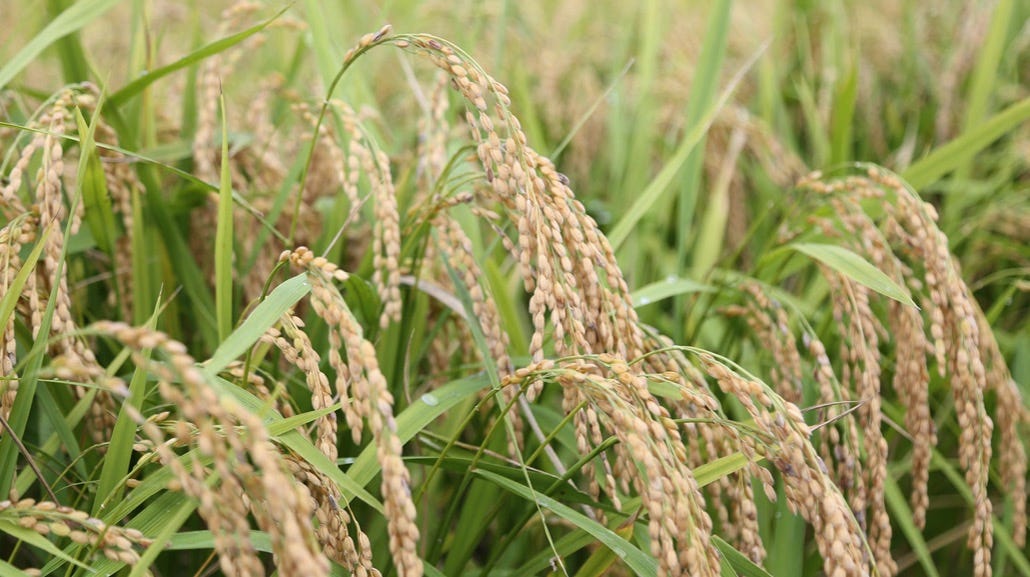 Sake bearing the Harima GI label must be made with Hyogo-grown Yamada Nishiki among other standards. Moving forward, the organization aims to tighten the requirements for the GI in regards to rice and water standards. The committee will assess submitted sake twice a year. Any sake that fails to qualify will be ineligible to use the name Harima on its label in Japanese or English. Chairman of the committee, Hiroshi Tanaka, hopes the GI status will enable breweries to promote Harima sake more effectively.
Harima GI-branded sake will begin appearing on the shelves in May. 
*Sake brands that contain the name Harima as part of their branding name such as Okuharima and Harimaji will be exempt from the labeling regulations.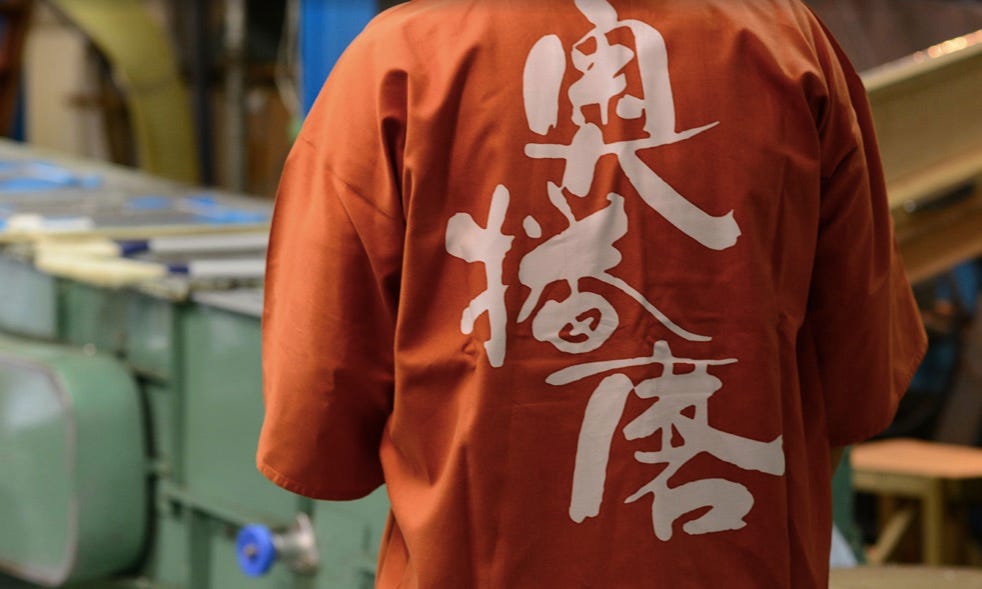 JG: Along with Nada, the region of Harima is seminal to the development of sake in Japan. Historically, it is also known as the home of Niwata Shrine, a place believed by some to be the birthplace sake brewing. While there are many regions that are suited to GI, certainly Harima is one of the most deserving. The GI scene for sake in Japan is warming up a bit; it will be interesting to see where it goes. 
---
Ichinokura Pays It Forward For The Kids 
Miyagi- In a truly admirable show of community spirit, Ichinokura has been donating the proceeds from one its sake to a charity supporting children affected by the 2011 Tohoku earthquake and tsunami disaster. The charity project named, "3.11 Baton Pass to the Future", was established following the disaster with the aim to help local children with schooling and social obstacles that have arisen since the tragedy. To date, Ichinokura has donated JPY 53 million (USD 500,000) through sales of the tokubetsu junmai genshu named after the project.
A brewery representative explained, "After the earthquake, we received tremendous support from all over Japan and overseas. We wanted to give back to the community to show our appreciation, so after internal discussions at the brewery we decided we wanted to help the children in the area that have been suffering. We launched the "3.11 Baton Pass to the Future - save the children through sake project"in December 2011. We use 3000kg of locally-grown Kurano Hana rice (grown without the use of pesticides or chemical fertilizer) to brew one tank of sake, with all sales from that tank going directly to the Hatachi Fund."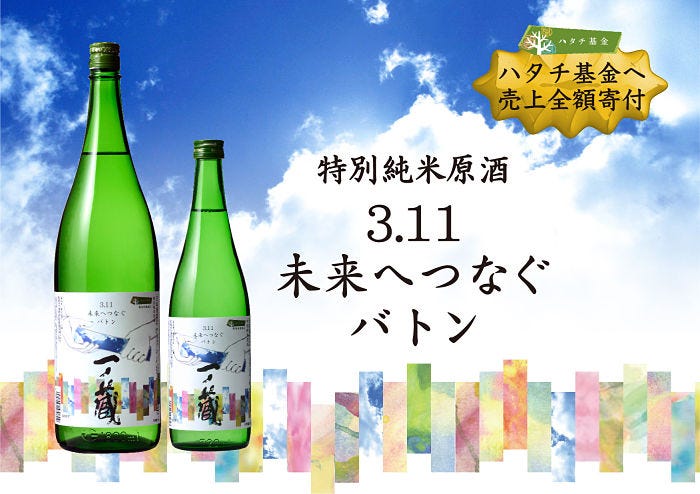 The Hatachi Fund was set up immediately following the earthquake to support children in the region until they reach the age of twenty (hatachi in Japanese)
This year's 3.11 Miraie Tsunagu Baton was released on February 19 for JPY1650 720ml, JPY3300 1.8L
3.11 Baton Pass to the Future 3.11未来へつなぐバトン
Kurano Hana 蔵の華
---
Hiroshima Sake Joins Forces With Powerhouse Wine Region  
Hiroshima- Hiroshima Prefecture has signed a mutual cooperation agreement with French independent wine producers association, Vignerons Indépendants Bourgogne-Jura, in order to strengthen its brand and expand distribution.
Governor Hidehiko Yuzaki and association representative Virginie Petit attended a signing ceremony held at the Hiroshima Prefectural Hall on March 13. The agreement includes information exchange in regards to branding, production techniques, and strategies to expand distribution. 
Vignerons Indépendants Bourgogne-Jura has around 330 small independent wineries as members. Petit said she recognized the commonality that sake breweries in Hiroshima share with the wineries of Burgundy, with both regions boasting a long history of family-run businesses. Petit expressed a desire to sample more sake in the future, describing her impressions of Hiroshima sake so far, as being well balanced with delightful aromas. 
Governor Yuzaki says he hopes Hiroshima can learn from Burgundy's success in creating global brand recognition, and gain some insight on how to increase market visibility for Hiroshima sake.
---
Abandoned Rice Fields Put To Good Use 
Nagano- Thirteen local farmers have banded together to grow sake rice using abandoned rice fields in the Tozawa region of Sanda City. The group operates as part of the Tozawa Sake Rice Project, which was launched in February 2018 to make use of unused land and in tandem support the local sake industry by growing sake rice. This year, enough rice was grown in the 2000ha fields to produce a full tank of sake. 
The rice was used by Okazaki Shuzō (makers of Kirei) to produce a junmai sake under the label Uedashi Sanadano Sato Tozawa-san Hitogokochi (Hitogokochi from Tozawa, Sanadano Sato, Ueda City). 
A limited release of 330 1.8L bottles are available for JPY2500 and 1200 bottles of 720ml for JPY 1,300. 
Tozawa Sake Rice Project 戸沢酒米作りプロジェクト





上田市真田の里戸沢産ひとごこち
Okazaki Shuzō・Kirei 岡崎酒造 ・ 亀齢
---
Kyoto Kura Debuts New Yeast Strain
Kyoto- Haneda Shuzō has introduced use of a new yeast strain, Kyōno Koi (Love of Kyoto) developed by the Kyoto Industrial Technology Research Institute, in a soon to be released sake. 
The sake, Hatsu Hinode junmai daiginjō muroka nama genshu, has been described as easy drinking and approachable, with the yeast showing light aromas of apple and gentle acidity.  The brewery suggests the refreshing palate makes the sake suitable for newcomers and those unfamiliar with sake, pairing well with western cuisine such as cheese and Italian dishes. 
The Research Institute is continuing work on developing new yeasts in order to support local breweries. 
Available from April 18 for JPY2420 per 720ml.
Haneda Shuzō 羽田酒造
Kyōno Koi京の恋
Kyoto Industrial Technology Research Institute 京都市産業技術研究所
Hatsu Hinode 初日の出
---
Hana Izumi Celebrates 100th Anniversary In Style
Fukushima- Hana Izumi Shuzō in southern Aizu is celebrating its 100th anniversary by releasing two limited edition junmai daiginjō in August. The brewery, founded in 1920, brews all its sake using the yodan jikomi (four-stage brewing) method using mochi-rice (a sweet, glutinous rice). 
The first of the limited releases is the 2020 Gentei Jōzōshu (Limited Edition Sake) made with Fukushima yeast, Utsukushima Yume, and rice from Minami-Aizu. Shipping is expected to begin on April 24. The other release is the Sōgyō Hyaku Shūnen Kinen Jōzōshu (100th Anniversary Commemorative Sake) made with local rice (as a respectful nod to the brewery founders) milled to 35 percent. The label, designed by Hideki Yoshimoto, represents the bubbly form of a fermentation mash.  
The price of the Commemorative Sake has not yet been announced, but the Limited Edition is priced at JPY2020 for 720ml.
Hana Izumi Shuzō 花泉酒造
2020 Limited Edition 二〇二〇年限定醸造酒
100th Anniversary Commemorative Sake  創業百周年記念醸造酒
Utsukushima Yume yeastうつくしま夢酵母
JG: Something noteworthy in the above passage is that Hanaizumi makes all its sake using yodan jikomi (also known as yo-dan, depending on the region from which the speaker hails). While most sake is made using sandan jikomi, or three stage addition, some sake is made using a fourth addition. Usually, but not always, this is just kōji rather than both kōji and steamed rice (as the main three additions are), and is done for the explicit purpose of adding sweetness and perhaps umami to the sake.

For example, if a sake is fermented thoroughly to about 20 percent alcohol, there may be little sugar left and the sake could end up being too dry and thin. Adding kōji in the twilight of the fermenting period, when the yeast is mellowing out and not so strong, means that the enzymes can create sugar and umami-contributing amino acids when the yeast no longer has the virility to greedily ferment it into alcohol.

While many places employ this technique from time to time, few do it for all their sake like Hana Izumi. Furthermore, the type of rice they use for their yodan is mochi-gome (or mochi-mai), a soft rice that dissolves extremely quickly. This makes it unsuitable for general sake (although there is at least one brewery that uses mochi-gome for everything!), but is perfect for yodan, precisely because it does dissolve so fast. 
---

Due to current conditions around the globe, we have made this issue of SIN available for everyone - however if you are not a paid subscriber please consider supporting us by subscribing.
When you sign up as a paid subscriber you will get a 31 day free trial (that's two free issues) and you also have access to all the SIN archives.
$10 a month or $100 for the entire year.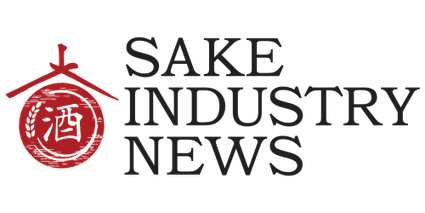 ---
Industry Stirrings...
Yamagata- The first rumblings of COVID-19 effects on the sake industry are starting to roll in with reports of overseas shipments hitting unprecedented lows. Popular brewery, Dewazakura Shuzō, has reported an 80 percent drop in exports. It is estimated 90% of sake exported overseas is for the restaurant market. But with restaurants struggling themselves, demand has simply dropped through the floor. Dewazakura Shuzō is reportedly sitting on a stockpile of 300 cases of sake that were to be shipped to USA but remain in storehouse limbo. 
Tokyo- The Ministry of Taxation, under whose jurisdiction the sake industry sits, recently announced that restaurants in Japan would be permitted to sell alcohol on a take-out basis. This is unprecedented, and should help just about everybody - Producers, restaurants and consumers. Furthermore, it does call for a special license restaurants must apply for by June 30. The license is only valid for six months from the date of issue. But in times like this, every little bit helps.
Yamagata- Kojima Sōhonten, maker of Toko has collaborated with a potter in Hyogo to revive Bizen-ware clay pots to be used in sake brewing. 
Hiroyuki Matsui, a potter in Hyogo Prefecture, is crafting the three hundred liter capacity pots. The pots are so large they cannot be made on a potter's wheel and need to be made inside the kiln where they are then fired. Kenichiro Kojima, president of Kojima Sōhonten hopes to revive the style, which was once widely practiced by his family's brewery hundreds of years ago. "No brewery makes sake like this anymore," he said. "The jars are made from soil and directly affect the flavor of the sake." Kojima aims to begin using the pots in the next brewing season starting October 2020. 
*Bizen Yaki (Bizen ware) is commonly made in Okayama Prefecture. Characteristics include reddish, brown coloring and no glaze. It is often particularly hard due to high temperature kiln firing.
Kojima Sōhonten 小嶋総本店
Toko 東光
Bizen-ware 備前焼

JG: Kojima Sōhonten is demonstrating an interesting way of innovating by going backward in time. I have great expectations for products like this, both in terms of marketing potential and pure enjoyment. (Full disclosure: My company exports Kojima Sōhonten sake to the US.) 
---

---
There's More Than One Way To Skin A Cat (Or Mill Rice)
By John Gauntner
Among the many steps of the sake brewing process, some are more glamorous than others, and therefore garner more attention. "Kōji-making" and "yeast starter" sound so much more romantic than "milling the rice." As such it becomes easy to dismissively abridge the more mundane-sounding processes, and even more so when modern machinery does a much better job than hassle-laden traditional hand-crafted methods. 
And rice milling is the epitome of this. When explaining the sake production process, we often start with, "first, they mill the rice…" and then move on to the more glamorous steps. But that belies how incredibly important milling is. One could say it is the most important step, since if the rice is not milled well – if there are lots of cracked or broken grains as one example – then the rest of the processes will not proceed well and the resulting sake will suffer.
Why, again, do they mill the rice? The objective is to remove fat and protein from the outside of the rice grains while leaving the starch in the center intact, in such a way that the rice grains do not crack or break. Protein and fat can give character to sake, but they are usually viewed as the cause of rougher flavors. Avoiding cracking and breaking while milling is important to let the microorganisms used in the production process to do what they need to do effectively and predictably. 
Since long ago, rice in Japan has been milled to a degree before consumption. But really, only the outer eight to ten percent is milled away; that is enough to significantly improve the way it tastes. Long ago rice was milled using grinding stones, often driven by water wheels when available. But this was rough, and only the very outer portion (that eight to ten percent) could be milled away. 
In 1896, a company called Satake, located in Hiroshima, developed automatic milling machines that made all that much easier. Eventually, Satake grew into the largest rice milling machine company in the world, which they remain today. 
In the 1930s, Satake went on to develop special milling machines to mill rice especially for sake brewing. These employed harder milling stones that were much larger, and through these developments brewers were able to mill the rice to higher levels then ever before, culminating in the eventual advent of ginjō-shu. 
So for a long while, it was all about Satake. But note, the company's bread and butter (or rice and pickles, as it were) was milling machines for table rice, a market they dominate today as well. But there are other milling machine producers, and many have come and gone. Today, the other main company that makes rice-milling machines is Shin-Nakano. Both are great companies, and both continue to make their presence felt. 
Shin-Nakano, while a much smaller producer of milling machines, is part of a larger holding company that owns other sake industry businesses, including a couple of sake breweries as well. And they have maintained plenty of relevance by focusing on craft breweries, and offering plenty of added value, in the form of research backed by recognized scientific methods that has from time to time gone against what has been standard practice in the industry. For this and other reasons, many sake brewers stick with Shin-Nakano machines, and they are quite visible in the sake world.
But beyond the machines themselves and their producers, there are developments that start out as ideas in the minds of brewers and such, and eventually work their way into the technology. One of those is what is called henpei seimai, or flat milling.
In order to grasp henpei seimai, remember that rice grains are not round, but are oval, kind of like a rugby ball, and the starch center known as shinpaku, is also basically of that shape. And like many of us human beings, there is much more meat around the midsection than at the top or bottom. This "meat" in sake rice is fat and protein. But when milling machines mill, they take the rugby-ball-shape and make it round by milling evenly everywhere around the grain. This means that, when milling is done, there is more fat and protein around the sides of the shinpaku than at the ends. 
If they could somehow maintain the oval shape and mill more around the midsection than at the top or bottom, a higher ratio of fat and protein could be removed. This idea was proposed about thirty years ago by Tomio Saito, a former Chief Official Appraiser at the Tokyo Regional Taxation Bureau.
And it worked! The concept was employed by Daischichi Shuzō in Fukushima, and as others followed soon after, Henpei Seimai was born. (Actually, Daishichi takes it a bit further and calls it chō-henpei seimai, or "Super Flat Milling.") 
Henpei Seimai does not call for special milling machines. It just calls for modifying and jury-rigging older machines - a lot of skill and a ton of patience on the part of the miller. But basically things are tweaked so that the rice grains fall in fewer numbers against the milling stone, and maintain a vertical orientation as they do. This means that as more gets nicked off the sides each time than the top or bottom, the henpei seimai goal is achieved. So anyone with the requisite skill and experience can do it, it just takes longer, and uses more energy as well. 
This is obviously appealing to most brewers: remove a higher percentage of fat and protein with less milling. But since it is a hassle, most brewers do not do it. Yet, amongst those that do, Shin Nakano seems to be the machine of choice, (although that is based on observation and word on the street rather than hard statistics).
However: Satake came back into the mix by recently developing a new milling machine that can do henpei seimai, but without all the little adjustments that are normally called for. No mess, no stress. Just select "henpei" and it works. It does it faster, and uses less energy in doing so. But they also took it a step further: Satake developed a slightly different milling outcome that they call genkei seimai. Genkei means "original shape", and as can be surmised from the name, it purports to mill the rice in such a way that it ends up closer to the original shape than normal round milling or henpei seimai. The result is that there is more fat around the middle than henpei, but less than so than rice milled via traditional methods. However, there is less cracking and breaking since the original natural shape remains more integrated. 
They have, in fact, just introduced this machine and this way of milling, so there are not enough results in the field to develop an opinion. That will come, and we will look at some preliminary mumblings in a moment. But to me, the most significant thing about all this is that the mighty Satake is actively getting involved in the sake rice milling game again. That bodes quite well for the sake world. 
Back to the differences between the milling methods, please refer to the graphic. Regular milling takes a rugby ball and mills it into the shape of a baseball, henpei seimai mills more from the fat-laden sides than the ends, and genkei seimai is less flat, and mills somewhere in the middle, with the objective being maintaining the original dimensions, so to speak, of the rice grain.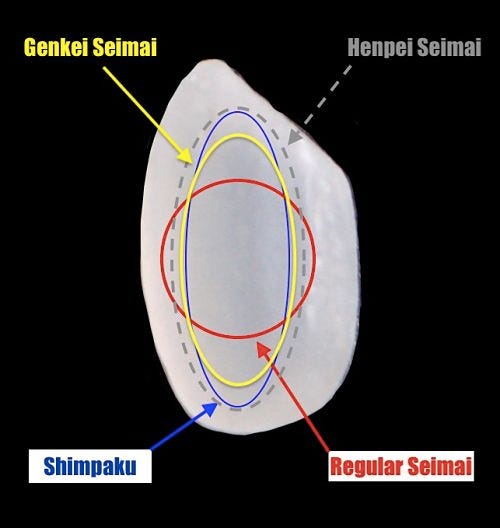 Several breweries in Hiroshima cooperated with Satake to brew sake that were identical in every way other than one being milled using henpei seimai and the other using the newfangled genkei seimai. One of them was Imada Shuzō, brewers of Fukuchō. The owner/tōji, Miho Imada, sent me a bottle of each to do a comparison. In truth, I only had one bottle of each, and both were freshly pressed and nama. While certainly delicious, I might be able to tell a bit more with some time in the bottle and pasteurization, but that chance will come in time. From what I tasted, the results were as subtle as might be expected considering how slight the differences in milling are.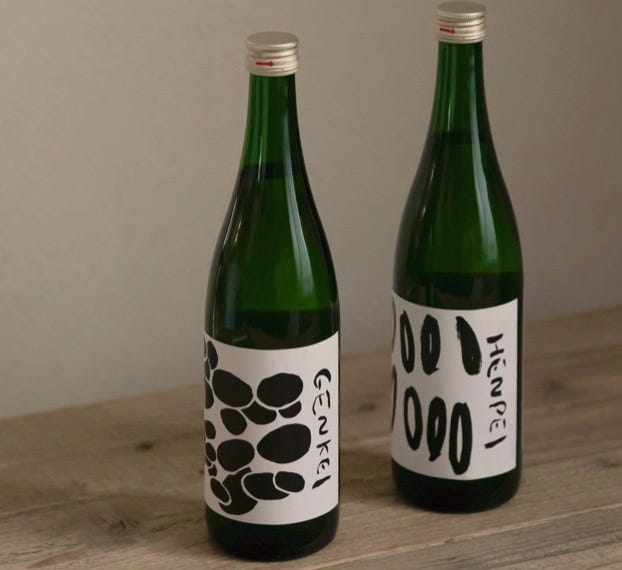 Image credit -
Fukuchō
The genkei seimai sake seemed sharper and brighter in aromas, but more settled, broader and rounder in flavor. The henpei seimai version seemed richer in aromas but lighter in flavor. While I am not sure why the aromas where that way, knowing that henpei was brewed with rice with a bit less fat and protein, the slightly slimmer flavor seemed appropriate. But again, we would need another hundred samples or so to come up with a truly dependable result. 
After having brewed with all three types of milled rice, regular, henpei and genkei, Imada emphasized one thing quite emphatically, "None of these methods is unequivocally better than the other. None will replace the other two; they all have their place. It depends on what kind of sake you want to brew; that's what it comes down to." 
And, as mentioned above, to me what is most important is that these developments continue to take place, and that important companies like Satake continue to be involved at the research and product development levels. 
If you are in Japan, you can purchase both sake here and compare for yourself: Fukuchō Website.
If you are interested in the machine that does it, you can see the specs here, in Japanese.
Link to Daishichi as talked about in the Audio version.
henpei seimai 扁平精米
genkei seimai 原形精米
By John Gauntner

That's it for this issue. Don't forget you can comment below!