Issue #4- Recovery And Aftermath Of Typhoon 19, Flooded Milling Plant In Fukushima, Goutte D'Argent -Wine and Sake Hybrid, Sake World Cup, Bee and Wasp Yeast, Heisei to Reiwa
Know More. Appreciate More.

Recovery And Aftermath Of Typhoon 19 
Over two days from Oct. 12, Typhoon 19 ravaged northeastern Japan - the second typhoon in the area in as many months. Fortunately, Typhoon 19 wasn't as devastating as its predecessor, but it didn't pass without incident. Here's a roundup of some of the reports from around the affected areas following the typhoon. Let's hope it's the last of these reports for a while!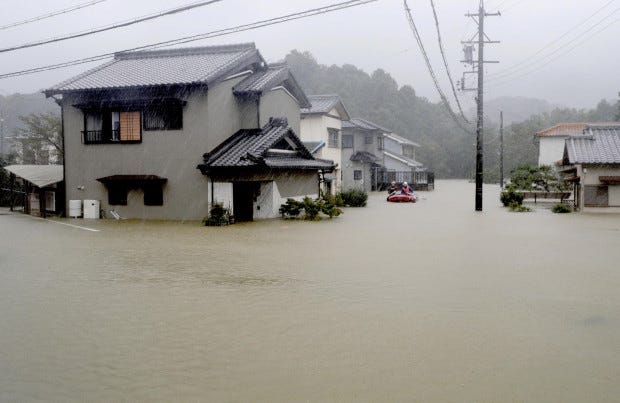 Typhoon 19. Image Credit- Reuters
Tochigi- Typhoon 19 affected several producers in the region. Dai-Ichi Shuzō, maker of Kaika, suffered from flooding with water levels reaching 50 cm in the office and brewing plant.  President Yoshinori Shimada said, "We have been brewing since September with hopes to release early November, but that's not going to happen now."
Niigata- Kirinzan Shuzō was affected by flooding, leaving the brewery unable to ship 50,000 bottles of 1.8L sake (approximately 90,000 liters). Tanks were tightly sealed leaving quality unaffected, but workers are hurrying to repair the brewery for November and December shipments. Floodwaters made it as far as the storage facility, which holds eighteen tanks of unpasteurized sake set to be labeled as White Bottle Daiginjō Nama and Namazake Karakuchi. Shipping is expected to be delayed for more than a month. 
Floodwaters that reportedly reached 90cm had to be pumped out of the brewery. Once the water had been drained, mud and debris were cleaned out and the brewery re-sanitized. Mr. Kiyono, vice-production chief, said, "It is only 10 percent of our production that has been affected by the flood, but this is a particularly busy time of the year and a lack of products on the shelves is bad for business." 
Chiba- According to the Chiba Brewers' Association, Typhoon 19 was not as severe as Typhoon 15 on Sept. 9, but with breweries still in recovery mode from the previous typhoon, the timing was devastating. Higashinada Shuzō and Mori Shuzō both reported some structural damage and extended blackouts, which were also reported at several other breweries. 
Iwate- According to the Iwate Brewers' Association, only minor problems were reported with production largely unaffected.
Miyagi- Minor issues only.
Nagano- Daishinshu Shuzō experienced flooding which halted production temporarily. Tanakaya Shuzō also reported flooding but was able to get back on track within a few days.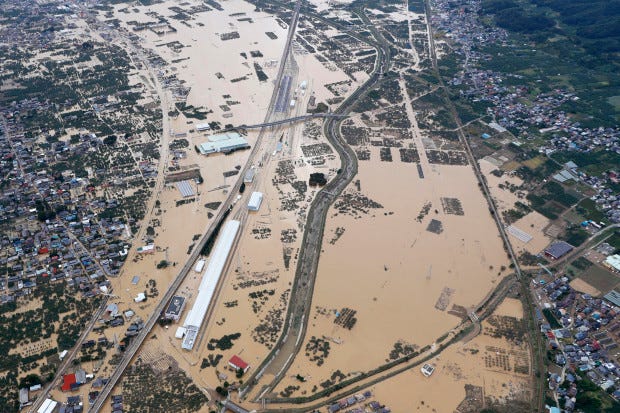 Nagano Flooding. Image Credit- AP (Associated Press)
Saitama- Matsumoto Brewery reported some minor flooding and blackout. No other reports.
Ibaraki- Three breweries reported minor structural damage. 
Gunma- Four breweries reported structural leaks.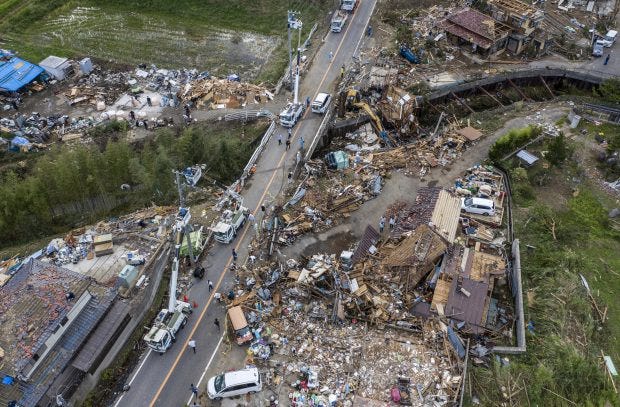 Typhoon 19 Damage. Image Credit- Getty
---
Flooded Milling Plant In Fukushima Throws Brewing Schedule Into Chaos
Fukushima- TOHO Pikusu Koriyama, a rice milling facility used by 80 percent of Fukushima breweries, was flooded after Typhoon 19 causing concerns in the region. The facility undertakes milling for 44 sake breweries in Fukushima and handles more than half of the sake rice produced in the prefecture.
Recovery has been progressing, but many breweries are being put behind schedule. Of note, floodwaters managed to breach the stock of Fukushima-grown Yumeno Ka and Gohyakumangoku. Executive Director of TOHO Pikus, Mr. Abe said, "We are trying to source rice from outside prefectures. It could be later than usual, but we're doing our best not to affect too much of the peak brewing time in November."
Affiliates of the Aizu Wakamatsu Brewers Association use TOHO Pikus to mill 192 tons of local sake rice each year. Twenty tons of rice scheduled to be shipped on Oct. 15 remained undelivered due to the flooding.  Shōji Iwasawa, Executive Director of the Aizu Wakamatsu Brewers Association said, "The effect on breweries has been huge - we need to get things back on track by January - the peak time for daiginjō brewing."
Tsurunoe Shuzō has been left high and dry with no rice after 19.5 tons of its contracted supply, that was due to arrive on Oct. 16, was damaged.  CEO Hirotoshi Mukai said, "With no rice at all we cannot start brewing." He has since managed to source some rice from local farmers and arranged milling with another facility.
As of November they have managed to begin brewing, hoping to have sake available for the lucrative end of year market. "December is a make or break season for a small brewery like us," said Mukai. "Sacrifices have to be made without impacting quality."
Daitengu Shuzō lost its entire stock of rice to water damage. Brewing was all set to start in late October, but the brewery now finds itself back at square one, needing to source more rice before production can begin.
The Fukushima Brewers Association is in discussion with other milling facilities in the Tohoku Region to do what they can to help breweries maintain quality and supply levels. 
Climate change is affecting the sake industry much sooner, and in many more ways than anyone anticipated. Who could have anticipated losing a whole stockpile or rice due to flooding? Yet it has happened to two breweries in Fukushima so far this year. Let us all support the affected breweries, and the industry in general. Please keep aware of when and where sake from hard-hit breweries becomes available, and give it a little extra purchasing love.

John Gauntner
---
Worlds Collide With Wine and Sake Hybrid 
Chile- There are a number of examples on the market of sake that have been produced using wine yeasts, but now renowned wine maker Pascal Marty has created what is believed to be the world's first white wine fermented with sake yeast. With a resume in winemaking boasting stints at Mouton Rothschild in Bordeaux and Opus One in California, Marty now operates his own winery, Vigne Marty in Chile. 
His new creation, named Goutte D'Argent, was born out of an interest in bridging the gap between white wine and sake which has been slowly closing over the last few years, sake more frequently being served in wine glasses and matched with European cuisine.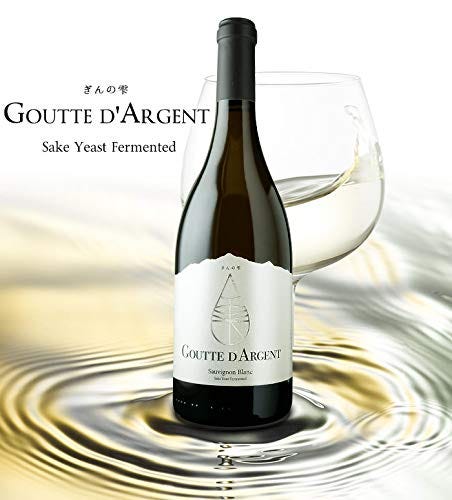 More than just a new style, the production process itself is a new approach. Marty was convinced that low temperature fermentation was key to keeping the aroma in white wine, but struggled to find a yeast that could function in such temperatures. Several years ago, after discovering sake and talking with brewers, Marty was intrigued to discover that sake is capable of producing an ABV up to 20 percent at temperatures as low as 5 degrees Celsius, compared to around the average of 13 degrees required for wine fermentation. 
Through his membership in the Japan Brewer's Association, Marty was able to procure a sample of association yeast #7, also known as Masumi yeast. Through this low-temperature fermented hybrid Marty has produced a sauvignon blanc wine with light sweetness, low in herbal and citrus aromas but with floral aromatics, and a ginjō-esque character - all while still maintaining the traits of a Chilean white wine.
Goutte De'Argent is available in Japan and selected online retailers with a RRP of JPY3300.
---
All publicity is good publicity, and while the comparisons of sake with white wine only go so far,  the fact that a prominent producer in a prominent region is venturing into the sake realm will only help raise the visibility and the image of sake. Let's hope Goute De'Argent lives up to the promotion! 

John Gauntner
---
The Other World Cup
Tokyo- As Rugby World Cup fever died down in Japan, a new event rose in its place. While perhaps not garnering as much attention, the second annual Sake World Cup was held in Tokyo and Kyoto over two days in early November.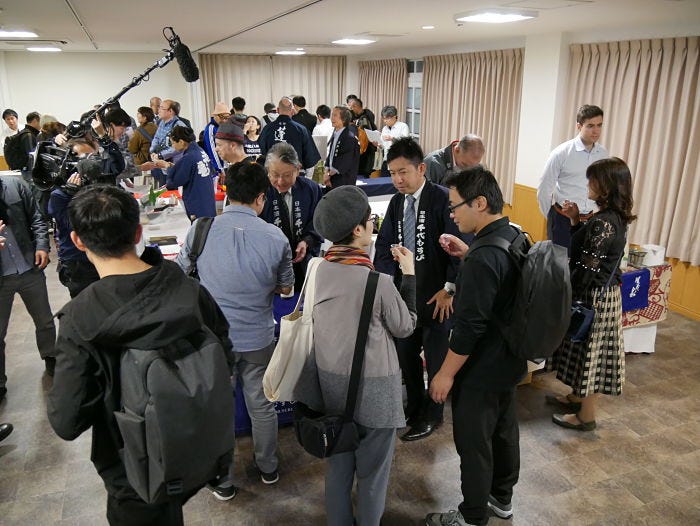 Despite the name, the Sake World Cup is not actually a competition pitting sake from different countries against each other, but more of a celebration of the ever-increasing range of sake being produced worldwide. Nineteen breweries from outside Japan took part in this year's event alongside fifteen local representatives. 
300 attendees were able to enjoy foreign-made sake and experience the difference in style and approach to the local varieties. Event organizer Koji Uenoyama reported, "The Japanese brewers enjoyed the rare opportunity to interact with their foreign counterparts and likewise, the foreign brewers appreciated the chance to present their sake to a Japanese audience." This year, as well as foreign breweries, local breweries employing foreign workers also took part - further bringing the two schools together.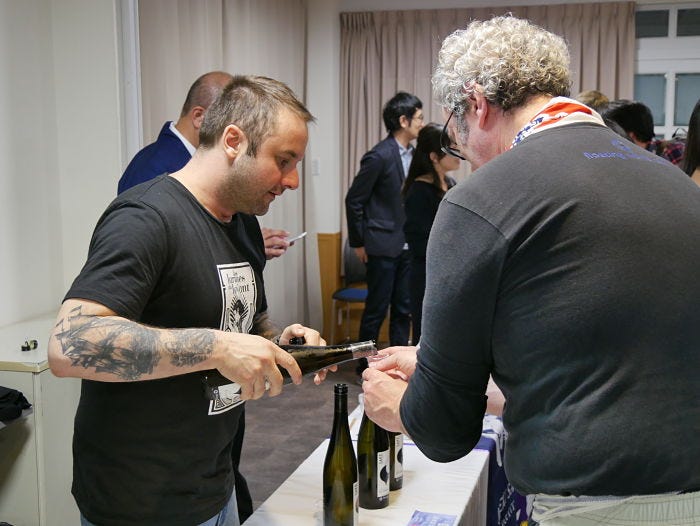 David Joll of Zenkuro (New Zealand) said of the event, "Being surrounded by so much sake knowledge and passion, and being able to contribute to the internationalization of sake was a very special experience for myself and the Zenkuro team - bring on Sake World Cup 2020!"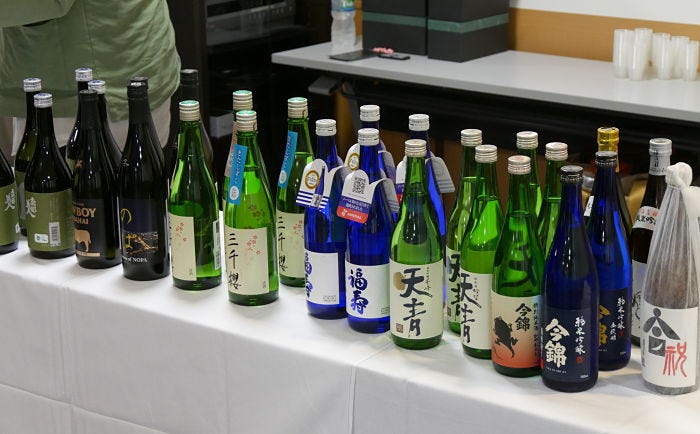 Uenoyama says as the event grows each year he hopes to stimulate the industry, create a new demand in Japan for foreign made sake and connect the divide between local and overseas sake culture. 
Participating breweries from outside Japan included:
Zenkuro (New Zealand)
YK3 (Canada)
Den (USA)
Les Larmes du Levant (France)
Sequoia (USA)
Go-Shu (Australia)
Nami (Mexico)
Artisan Sake Maker (Canada)
Kanpai (UK)
Tahoma Fuji (USA)
Seda Liquida (Spain)
Tonan Hoyoku (Chile)
Etsuno Hajime (Vietnam)
Takara (USA & China)
Gekkeikan (USA)
Ozeki (USA)
The list of sake producers, both boutique and large scale, grows each year, and one sure path to better worldwide understanding of sake. The closer sake gets to being a mainstream world alcoholic beverage, the more stable the industry will become, and the easier it will be for all of us to enjoy our favorite drink. With two years' of experience down, Koji Uenoyama and company can be expected to make this event increasingly better each year. Looking forward to next year's event. 

John Gauntner
---
New Sake Project Creating Quite A Buzz
Across Japan there is sake being made with wine yeast, flower yeast, wild airborne yeast and of course cultivated yeast but in an industry first, a new project developing in Ehime Prefecture is working with utilizing bee and wasp yeast. 
Project founder and well-versed sake professional, Charles Stewart, initially researched the concept after studying sake made with flower yeast. He deduced that if flowers carry yeast that can be used in brewing, bees might also carry their own yeast.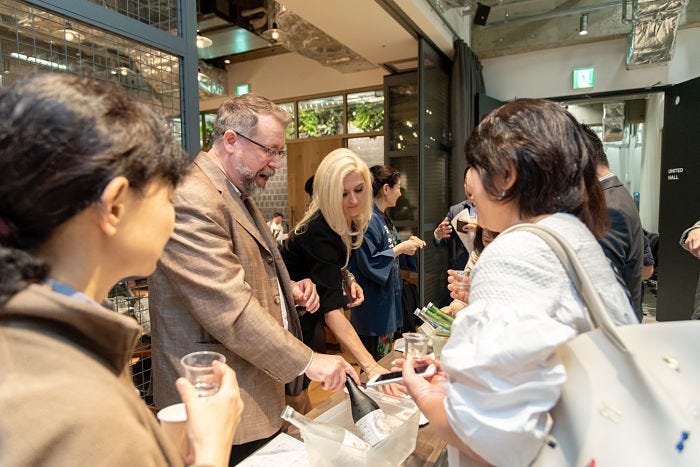 Charles Stewart and Dr. Anne Madden offering tastings of their creation.
It turned out Charles wasn't the first to have this idea, leading him to his discovery of the work of American biologist Dr. Anne Madden, whose research had involved isolating bumblebee and wasp yeast (Lanchancea thermotolerans). Dr. Madden's work led to the development of a yeast strain now used in the craft beer industry to produce sour beers.
After some further research, Charles brought the idea of using bee yeast in sake production to Shōko Kameoka at Chiyonokame Shuzō in October 2018. 
Through initial test batches it was discovered that sake produced with bee yeast created a lot of acid - in particular lactic acid.
Recognizing the increasing popularity of acid-driven sake among local drinkers and the foreign market, Charles and Shōko figured if the acid could be managed effectively, essentially by balancing it with the high amounts of glycerol that was also being produced, they could be on their way to finding something unique for the sake market.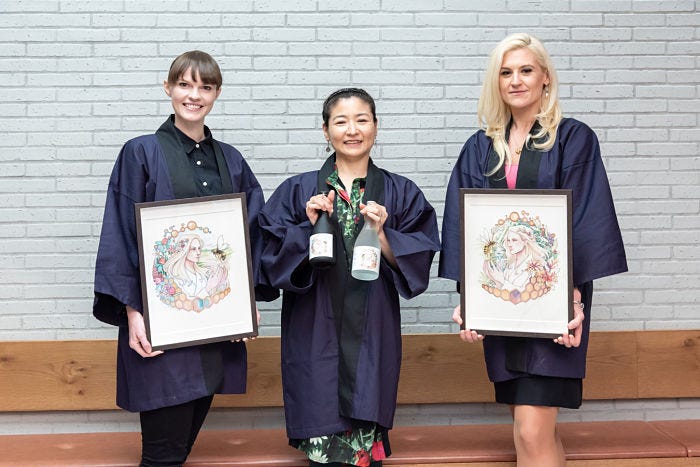 Erica Ward (label artist), Shoko Kameoka (brewer) & Dr. Anne Madden.
To date, four major batches have been developed with positive market research feedback describing the bumblebee yeast-made sake as "silky and complex", and the wasp yeast sake, "floral and muscat-like". A fifth batch is in the planning stage. The two varieties, brewed as junmai ginjō nama will be named Anne Meadow (bumblebee yeast) and Anne Glen (wasp yeast) respectively, in honor of Dr. Anne Madden's work.
The sake is set for an official release on February 2, 2020 - International Women in Science Day. 
---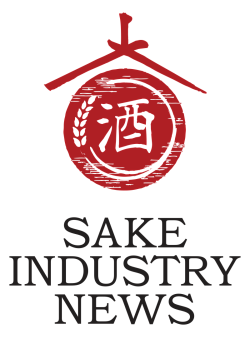 ---
A Look Back On The End Of An Era
By John Gauntner
As we approach the end of 2019 and look back over the past year, easily the biggest thing that happened in Japan was the changing of the era from Heisei to Reiwa. The new emperor was enthroned on May 1, the day the era name officially changed. The coronation ceremony, however, just took place earlier this month. What was unusual this time, is that the now-former emperor abdicated while still relatively healthy for his age, rather than retaining the throne till death.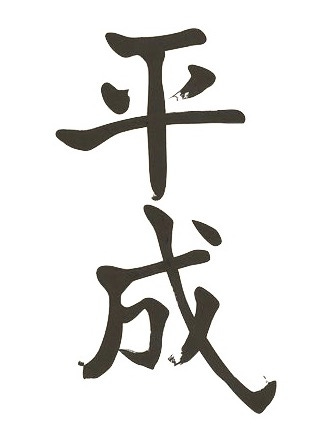 Kanji for Heisei
Of course, along with this change comes a spate of articles in all kinds of media about the events and changes that occurred across the 31 years of the Heisei Era, i.e. from 1988 to 2019. Recently, an alcoholic beverage industry publication looked at some of the things that changed across the Heisei period within the industry. Some of the numbers are surprising, some less so. But some are downright shocking and of great concern. 
Most alarming, although not necessarily surprising, was seishu (nihonshu/sake) was reported as being down 61 percent in 2018 from the first year of Heisei in 1988. (Statistics like this are based on alcoholic beverage taxes paid to the government - an accurate way to keep track of it all). In other words, close to two-thirds of the sake market has dried up in about thirty years. 
There are a handful of reasons for this. One obvious reason is a generation change in the form of a large number of older men who worked hard and drank hard in the postwar era, have largely retired and left the workforce, or more relevantly, the sake-drinking force. So a huge chunk of sake's support network has disappeared. Also, among other reasons, production costs and raw material costs of sake continue to be higher than those for other beverages. As such, sake is far from the cheapest beverage on the market. 
While it was not a part of this article, one huge factor in sake's apparent demise is the lack of marketing and advertising that producers have put into it. Most sake producing companies are family owned businesses, and while this is changing quite a bit, it was certainly true across the Heisei era and before. Advertising and proper marketing are expensive, and many companies have not (and still do not) find that it works for them. So certainly, sake has been grossly under-marketed. But this is a topic worthy of its own article. 
Beyond sake, beer was also down a full 58 percent, and even more surprising to me, whiskey was down 24 percent. 
As for beer, a tax loophole has allowed beer-like product known as happōshu, made with less than a specified percentage of barley and more adjuncts to be sold for lower prices. It is basically slightly thin, watery beer - like most of the mainstream beer on the US market. But statistically it doesn't fall into the beer category, which slightly skews the overall stats. Nevertheless, beer is still the most consumed alcoholic beverage in Japan. 
Whiskey sales contracted for most of the same period, but has actually seen a surge in consumption over the past three years or so, still leaving it down the aforementioned one-fourth. Furthermore, there has been such a surge in popularity of whiskey that there is a shortage of the distillate. The industry is working hard to produce more, but the aging of whiskey obviously takes time and cannot be rushed. 
So, what is going up? Shōchū, for one. Both the multiple-distilled version (up 80%) and the single distilled version (up 125%) saw boom-like increases across Heisei. While the latter is often enjoyed on its own, much of the former is used in making RTDs (ready to drink, pre-mixed canned beverages) that fill the shelves of the alcohol corners in most convenience stores. 
Wine has also enjoyed a surge, and is up 180 percent over the same period. A positive aspect of this is wine made in Hokkaido and Koshū (Japanese grape variety) wine made in Yamanashi, have both secured GI (Geographical Indication) that is contributing to their popularity and growth. 
But the one area that has seen the most growth, and is second overall to beer, is the category legally classified as "liqueurs". A kind of a catch-all term for products made with one or another distilled beverages and flavorings of some kind, this group makes up the majority of the RTD market, which seems to be encroaching on every other sector. 
However, in the end, sake's demise cannot be blamed on the popularity of other beverages. That point needs to be emphasized. 
There are more good-news observations on sake as well. It continues to be popular overseas, and while only about five percent of all sake is exported, this sector continues to grow steadily. Also, sake seems to be (re)gaining popularity in Japan. "Seems" is the key word here, since numbers are basically flat, but premium sake types are growing, while inexpensive sake (over 60 percent of all sake) continues to drop. 
Just when and where it will shake out and stabilize remains to be seen, but our work is clear: drink more sake, and if you're in the business, do your best to sell more as well. 
By John Gauntner
---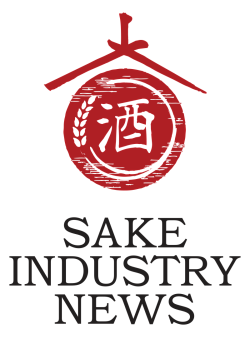 Don't forget as a paid subscriber you are able to make and view comments on any newsletter. Also archived newsletters 

are here

.